this past thursday was the bf's 25th birthday. i decided to throw him a birthday party. a surprise birthday party. a surprise "midwestern" birthday party. and i did, and it was a success. what do i mean by "midwest" ? well, tony wasn't born in texas, nope he's a transplant from illinois. so in lieu of his illinois/ missouri (aka the midwest of america) roots i thought he'd get a kick out of an everything midwestern themed party. i planned an elaborate set up to get him out of the house and around 7:45 on thursday, thanks to makenzie calling a faking a flat bike tire, we got him back home to his apt were he was pleasantly surprised to find 15+ of his favorite friends ready to have a good time.
here are some handmade decorations: a map of the midwest, a pretend campfire, ears of corn and snowflakes hung from the ceiling with care. not to mention an array of casseroles, "cheese dip", and even some beanie weenies.
heres hunter playing with rudith, she was loving all the company and personal attention.
the fun really got started when someone had the idea to do a little "chat roulette". i yes i will DEFIANTLY be taking credit for this great shots, looks like the perfect/authentic Apple product advertisement.
a bunch of people hung up on us, and a few got inappropriate, but the others we quite lovely. we'd open every call by gathering around the screen and yelling SURPRISE!!! from there we'd ask if they wanted to join our dance party … and from there …
 … we'd show them a real good midwestern time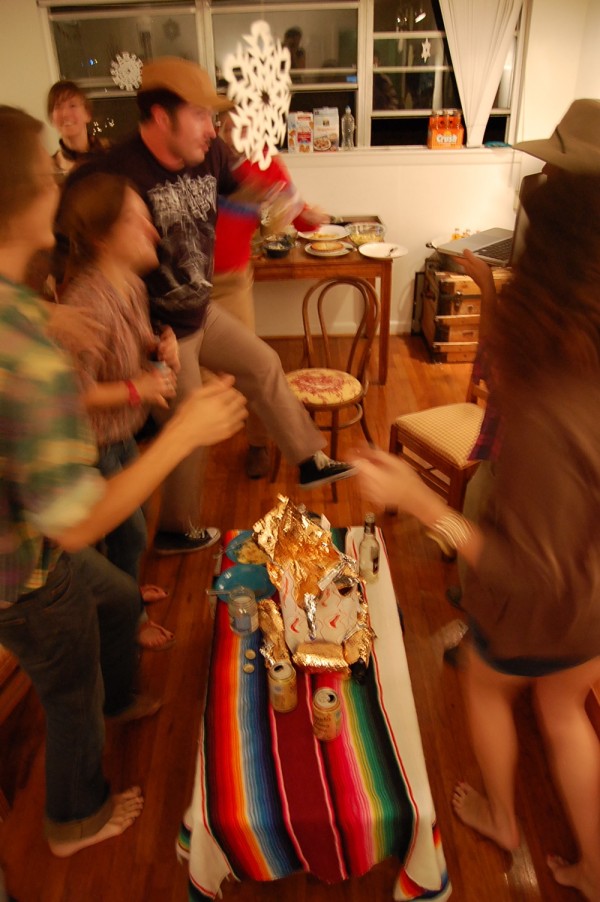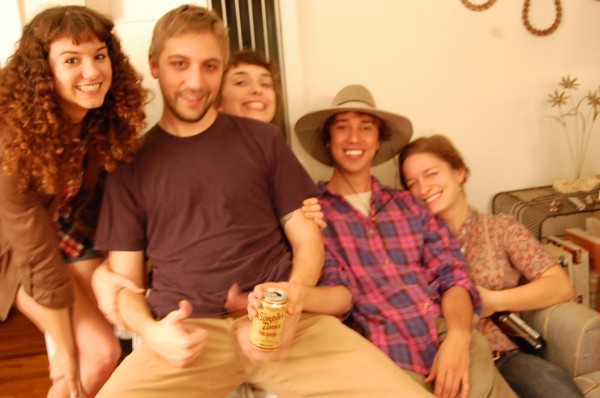 here is mak, the birthday boy, me and two rosalie co-oppers. the one on the far right is a true midwesterner, does it show ? and pictured below are ellie and fil, my right hand couple for making sure this party stayed a surprise – thanks guys !!!
did i mention we also had some non alcoholic drinks, POP to be exact. (see what i did there, didn't call it coke or soda or anything "normal")
oh man, and then the fun REALLY started. we started playing THEATRE GAMES: this gang's favorite pass time. we did a little bang bang splat, and then the legendary ninja game, then some taxi driver, and ended with "whattcha doin?"
heres pretty much all of us, thanks self timmer.
the night ended with the obligatory "mom call". thanks tony's mom for helping me keep the surprise a real secret !!!
and then of course some cat games. the only party fowl of the night was this chair getting broken, good thing tony found it in the trash and it was pretty much already on it's last let (hehe, did you see what i did there?)
all in all it was a major success and stay tuned because tony is hoping to throw a "thank you" party in the near future. oh and a big thank you to makenzie for being so helpful (also a little test to see if you actually read this whole post). until next year, happy birthday tony.
.dena.