blanket bingo: market square park
so buffalo bayou + market square is doing this new thing: blanket bingo. and go them hosting it on thursday, the same day at bingo in the heights. just a little competition i guess. for the same price, plus natural lighting and less wait time you can play bingo on the grass and support a houston waterway! i say everyone who likes paying someone to pretty much waste 3 hours of your thursday concentrating really hard on scrambled numbers and letters (guess that's what gambling is) hit up blanket bingo at market square park on october 3 (the next scheduled game) sometime after 6pm, game begins at 7. bring friends and you're sure to have a ball!
makenzie and i went last thursday with a housemate (chris) and new FNB/blog friend (Dan). (remember his name because it will get important later on in the post). we brought a baby picnic. and by "picnic" i mean a bag of chips. and by "bag of chips" i literally mean, i filled up a grocery bag fiesta to be exact up with tortilla chips from rUth haus. don't get mad at me other house-mates, i really didn't take that many. so, we had a snack. makenzie thought that was too sad to be dinner, so she bought some good things at nico nicos.
no need to spend an extra $1 on new dobbers, i brought 6 of the 14 i've accumulated over the years of going to bingo in the heights. if anyone ever needs some for an art project or performance piece – please let me know. seriously.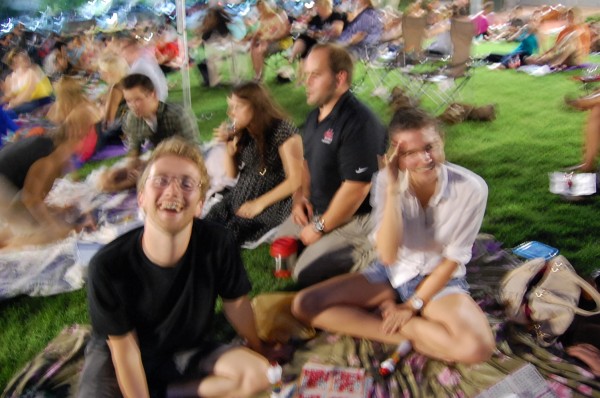 half way through the game this weird guy (with bulging cargo pockets) came over to the blanket next to us to talk to a friend. they talked. and then he kept talking. and then he kept lingering. all the time brushing makenzie with his pockets. it was too weird and funny to be annoying, and so dan (remember him) decided to get up and make this (scroll down) happen. it was so bad and awkward and embarrassing and so SO funny. and the funniest part was that it didn't even phase the crammed cargo man, he just kept on talking and invading makenzie's personal space.
and then the most exciting thing happened. dan (this is even more exciting that the photo above) won the grand prize bingo! he freakin' got bingo and won $500 cash!!!! (well, 5% had to be taken out for taxes, so it was actually only $475, but still). how exciting is that, we were the friends of the GRAND PRIZE WINNER!!! (thats an even more exciting prize than niv won in the heights!)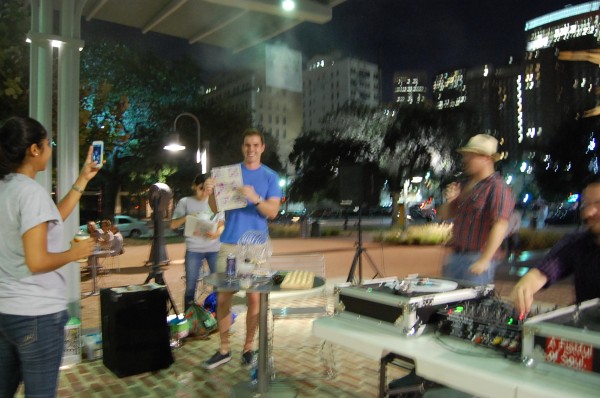 and ya everyone "booo-ed" us, and yes i was jealous that i didn't win, but what the heck – we spent the rest of the night celebrating at Grand Prize Bar (perfect ehhh ehhh) talking about good ways to blow $475 in cash and drinkin little kings (remember the first time we had a little king – you know who you are) and actually, no one even ordered a little king, we just kept talking about them. so, all in all it was a WAY fun night and i plan on being there next month. so see you there, maybe.