austin/ san antonio road trip . fall 2012 . DAY 3
this is SO delayed, but i have the pictures and want to share them and i guess late is better than never. ok, so here is our last day on our  roadtrip. we thought about heading back to houston early and spending the afternoon in our own city – doing things we already know we love. wewerehavinga"missinghouston"moment. but i thought that was a little too lame and then mak realized that san antonio was only an hour away and since we have a friend there we HAD to go. so thats where we went.
just had to make one stop first … awww yea. sorry dt matt and whoever else has a thing against buckees. don't judge us too bad …
we got there around lunch time and were hungry for something healthy and local. we choose "green" or something like that, its a vegan place and WOW every single thing on the menu looked like our #1 dream food . i'm talkin' EVERY SINGLE THING. oh and they were playin old country music. it was like being at a robert ellis whiskey wednesday all over again.
then we met up with JACKIE from republic downthirtyfive, of whom i've know for a few years through houston fnb. she know goes to trinity and is proud to call san antonio home. did i mention mak and i actually really LIKED san antonio? we went to a way cute boutique and after driving past a few coffee/cocktail places we ended up hanging out at this cool new little plaza thing.
oh but first, this little "dog" who i think was blind and deaf and malnourished had fallen on the other side of his wall. so i helped him.
the plaza had the old? pearl beer brewery and the PBR one too. there was also a bookstore and a delicious little cafe that's attached to some famous cooking school.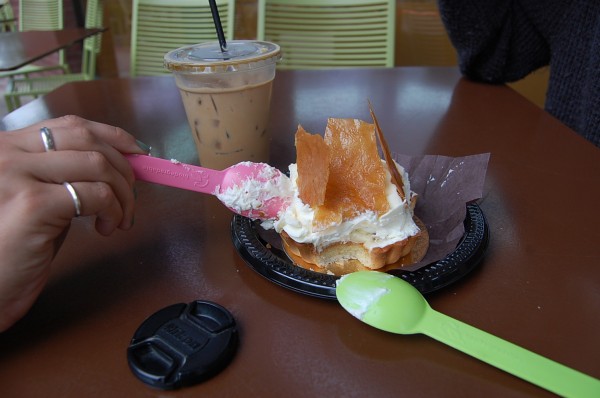 this was a banana cream tart and oh my gosh. one of my favorite foods is blue bell's banana pudding ice cream – and i must say, this is almost BETTER, but not quite. blue bell will always have a place in my heart.
after saying our goodbyes we headed back home. of course listening to robert ellis' coming home. "when 71 cuts over to interstate 10 you know you're headed east and and right on tract to your home again … i'm headed back to houston headed back to see baby." houston, its good to be back home.
.dena.