not your average housemates, not your typical halloween party
Ruth Haus had it's first OFFICIAL house warming + halloween party this past weekend. and i'll be honest, i was expecting a small "hang out" kind of house party. i thought there'd be porch sittin and drink drinkin and some good low key fun with a few close friends. B U T O H M Y G O S H was i underestimating the power of "the co-op party" (and probably the power of facebook event pages too).  anyway, it was one of the bigest / coolest / funest / craziest house parties i've ever been too, totally out of a movie. (pay not mind that i haven't been to many house parties … but i think most people present would agree that it was pretty intense.)
makenzie and i dressed up like folks who live at Ruth. i was Scott G. (that shirt is pretty spot on huh ? and you should have been there to see my dance moves). mak was David H, complete with an HPD shirt and ALL his tattoos drawn on with prisma markers. Scott G and David H on the other hand were wearing next to nothing – good one guys !
heres a 3rd and 4th floor haus mates. we were making jokes about taking awkward family portraits to hang in the common space – this one totally makes the cut. and best thing about the pictures below – mak's fake tattoo and David's real one line up. oh and abbey as hunter – classic downtogether.
as the night went on more and more clothes came off. exhibit above … and below.
here are the legs of a 3rd floor haus mate and below is the raccoon / burglar / moder dancer bf and a rosalie "banana in pajamas.
here is a better shot of my entire outfit. classic scott g plaid shirt and some medium length shorts. and of course the loafers and HIS ANKLE TATTOO.
above: tank girl. below: WILFRED (i just finished the first season last night – so this costume totally made my night.)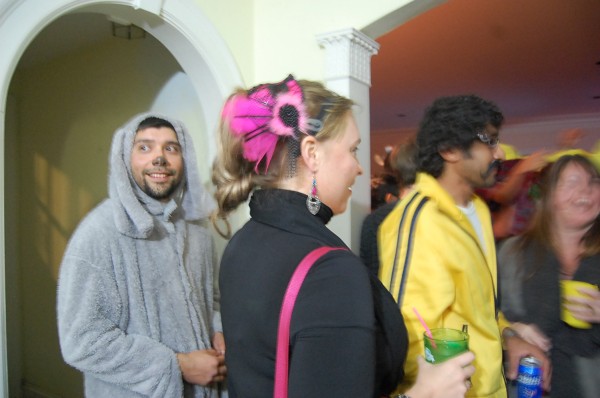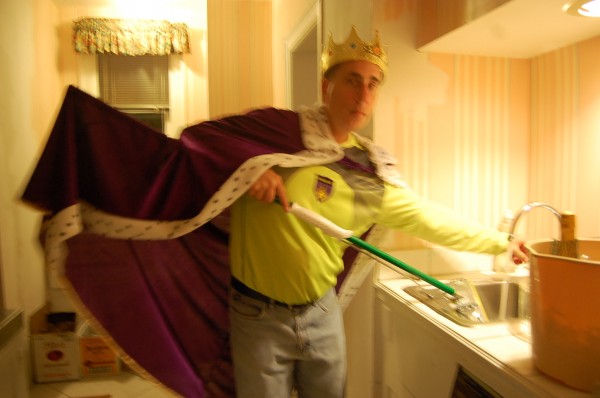 at one point during the dance party matt d got lifted into the air and paraded through the house. crazy crazy.
here is a 3rd floor roommate as mini mouse. oh and, it doesn't really look like it here but the house was PACKED. i'd say at least 150 through out the  night. there were a few points at which i was in the dinning room checking out the food situation and i'd look around and not recognize ANY ONE. so, that was pretty legit.
the dancing went on past 3:30am. and then the sing alongs + guitars/tamborines began on the back porch. i know this because i attempted to go to bed at 2:45 BUT since my room is directly above the living room – and because i can't fall asleep while my head board is vibrating with the bass – i laid in bed awake for a while. in fact, it was kind of fun to sing along.
i found this lion mask on top of the keg. hummm … and this picture below, well it was the last one i took before heading back to bed. the next morning (sunday) i helped the hausmates clean up – and surprisingly it wasn't that bad. out of all the recycling/trash picked up i'm still baffled at the WHOLE taco cabana burrito i found in the bathroom and why there was a ziplock bag of water by the toster oven.
miss this rad party ? want to mark your calendars for the next one? well you're in luck, we made "next party" a specific item on our sunday night haus meeting agenda and … we're having a NEW YEARS EVE PARTY. it's pajama themed and you can be sure there'll be enough dancing, hanging out, and carrying to go around so see you there.