makenzie's sort of graduation party
HELLO FRIENDS IT IS ME, MAK. Remember me?? Well, I graduated from undergrad with a BA in Psychology and a minor in Business. I'm taking a few months off to focus on travelling + individual projects and then I will be (hopefully) starting grad school in the fall! Keep your fingers crossed and if you have any connections…
I hosted a little graduation party on Monday and had people come out for dinner. THANK YOU SO MUCH to everyone who came. I felt so loved and supported and all those good feelings have been carrying over through the past couple days. I felt truly loved and appreciated so thanks for all the warmth. I'm going to try to say particularly nice things about everyone in the photos to give a little love back. Not everyone who came is pictured, so if you are not in a picture and I don't get to specifically talk about you, don't feel like you weren't appreciated! You rule! I was very nervous about having this party, but I had a really good time.

Dena took this photo of me and Tony outside Ruth. She said "GREAT it looks like you two are a couple." HEHE we're not. Also it looks like a movie scene. Some nice things about Tony: he is very smart and I think we have a similar sense of humor, which is probably why Dena likes both of us. I hope we get in to Cornell together so we can be friends. He is also really good at fixing bikes and he has a pretty sweet apartment.

Andrew and Matt showed up. Thanks guys!! Matt lives at Down Together and is one of the nicest people you will meet. Some nice things about Matt is that he always has a warm smile and a long, sustained hug which makes me feel really loved. There is a really great picture of Matt and I at Cafe TH looking at the camera and kissing our Banh Mi.
Funny story about Andrew, we met him through our blog! He messaged us one day to inform us about an event and we became friends! He started our Vegan Tuesday lunch group, which I look forward to every week. Seems like every time I hang out with Andrew, we talk about meaningful things which I totally appreciate. I really value Andrew's friendship as we work on issues and help each other become better people (I hope).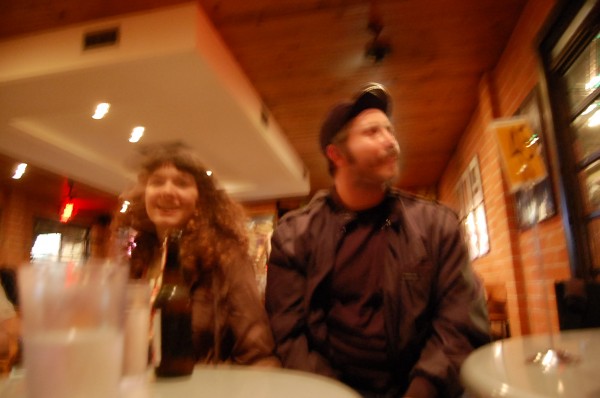 Sorry these pictures are kind of blurry but this is picture of me and David. There are many many nice things to say about David but I will try to pick only a few. David is supportive, caring, even tempered, and has a great sense of humor. I've seen him go out of his way + above and beyond to help people out and let them know that he cares. You can tell David enjoys his life to the fullest and he is always trying something new or hanging out with people who love him or doing something around the house. He also has the best laugh and a very nice mustache. <3

Halie, Tony, and Me. Halie and Dena went to high school together and I've gotten to hang out with Halie as a result of our mutual friend. One time we all spent the night at Halie's house over summer break and in the morning, we woke up and went to this little bagel shop. It doesn't sound like a very exciting story but it was a really fun morning. Halie has a great sense of humor and is fun to be around.
There's a lot of people in this picture to talk about. First up, my boss! I was so glad she was able to come to my dinner. She is a joy to work for, but I'm not going to say much about it here! In the background of the picture you will see Larissa and Robin. Larissa is one of my oldest friends I guess. I met her when I was in high school and we've come a loooooong way from when we first met! We meet for coffee every few weeks and fill each other in on what's going on in our lives and our relationships. It's great to work through our issues together and I get so much joy out of our friendship <3
So this dinner was the first time I actually met Robin but I've heard a lot about him from Larissa. He was just as lovely as she made him out to be 🙂


AND ALTHOUGH DENA IS NOT PICTURED ABOVE: Thank you for being my best friend. You are the weirdest funniest person I know and you always make me laugh and I like you even when you're grumpy and trying to be mean. Thanks for making me talk to people and for all your good advice and for always being there for me, even when I'm being obnoxious or a drama queen.
A bunch more people showed up after we made our way down to PG. To everyone else who showed up: thank you thank you thank you for your support and love over the past year or so. I am so honored to consider you all friends.
OKAY. THAT WAS TOO MUCH EMOTION FOR ONE POST. GUESS I DON'T HAVE TO WRITE ANY MORE POSTS FOR THE NEXT MONTH OR SO HEHEHE.