so, right about the time i posted that other letter press post, the one where tony and i made my graduation announcements, we were also trekking up to bryan/college station to visit this place: cedarshouse press. it's out of buisness and the owners are going up to new england to retire, and guess who bought up a bunch of their supplies? ummm hummm, tony did.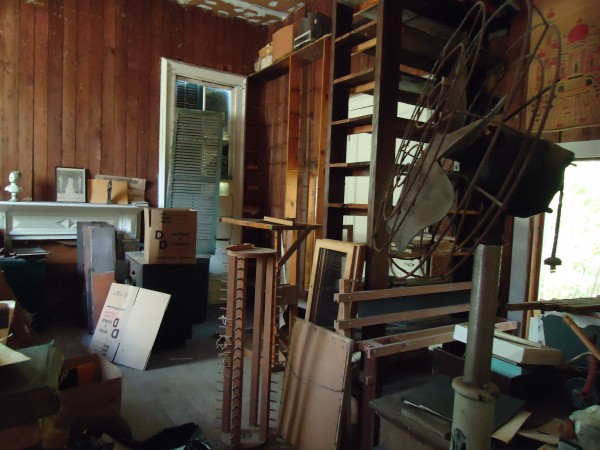 the building used to be an old trolley depot, and was built sometime in the late 1800s. it then functioned as a printing press where many poetry books were published in the 1980-90s. something exciting: the owner let me take that picture (pictured above).
here is one of the electric presses, it prints a whole bunch of pages an hour. tony and the owner talked about it for a long time, long enough for me to sneak around and snap a majority of these pictures.
here he is filling up his new cabinet with trays. he now has like 20 sets of bernhard gothic, ranging from 10 – 36pt, bold/medium/light. he also threw that way cool lamp in for $10.
it way more work than i bargained for, moving 30 wooden trays of lead type from the studio to tony's jeep and then from his jeep to his upstairs apartment. thankfully his mom did the real heavy lifting and helped him move the cabinet. no printing has been done since he bought the supplies – and he's moving to a new state for grad school in 2 months. so yep, this is a thing about us.